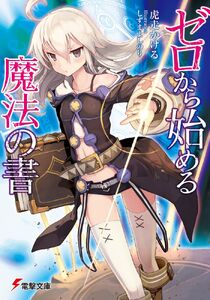 Grimoire of Zero(ゼロから始める魔法の書) Zero kara Hajimeru Mahō no Sho)​ is a light novel series written by Kakeru Kobashiri and illustrated by Yoshinori Shizuma. The series is published by ASCII Media Works under their Dengeki Bunko imprint since February 8, 2014.
The light novel series is being adapted into an anime series which is being animated by White Fox, the studio which is responsible for the Re:Zero − Starting Life in Another World anime adaption.
Plot
The grimoire fantasy series follows a witch named Zero who is ignorant of the world and a half-beast half-human named Mercenary who longs to be human. Witches who practice sorcery exist in the world, however, in this era no one knows how about the art and study of witchcraft. Zero is going on a journey to search for a magical tome called The Book of Zero that hides a power that can destroy the world. Mercenary travels with her as her guard.
Media
Light Novels
Main article:

Grimoire of Zero Volumes
Manga
Nano!
Anime
References